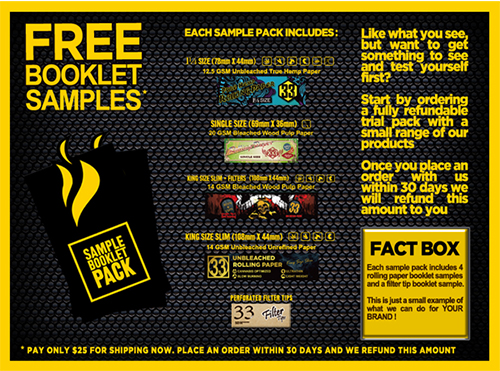 FREE BOOKLET SAMPLES
CUSTOM DESIGNS ARE NOT AVAILABLE ON THE SAMPLE BOOKLET PACKS
So you like what you see but you are not yet ready to place an order? You want to touch, feel, smoke or test some of our samples? Order a sample pack with a variety of our products to see what best suits you. A sample pack consists of 4 Rolling Paper booklets and a pack of Filter Tips:
1 booklet – Bleached Wood Pulp with Tips, 14 gsm
1 booklet – Unbleached Wood Pulp, 13.5 gsm
1 booklet – Hemp, 12.5 gsm
1 booklet- Bleached Wood Pulp, 20 gsm
1 pack of Filter Tips
This SAMPLE BOOKLET PACK is totally free. Only pay $25.00 for Shipping & Handling. If you place an order within 30 days you will be refunded this full amount on your final invoice.